Riggs Hotel Washington DC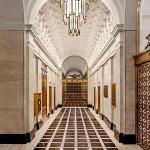 Riggs Hotel Washington DC
Dog-Friendly Hotels
998-900 F St NW
Washington,
D.C. 20004



Get Map or Directions

The Riggs Washington DC is located in the historic former Riggs National Bank building on the corner of 9th and F Street. Paying homage to the building's legacy, each of 181 guest rooms and suites are designed to evoke the thrill of opening a safety-deposit box, while serendipitous details throughout the hotel draw on a narrative inspired by the golden age of banking. The heart and soul of the hotel is Cafe Riggs Â? a modern, all-occasion restaurant in the tradition of the grand brasseries of Europe Â? as well as a lower level bar housed in the original bank vault from the internationally-acclaimed Mr. Lyan team.

Dogs up to 35 lbs are welcome for a $100 one time pet fee per stay and a pet agreement form signed upon check-in. Pets receive a multitude of complimentary amenities for the duration of their stay, including food and water bowls, a luxury dog bed, keepsake pet toys, and courtesy dog walking bags. Dog walking services can be arranged by the hotel's guest services team.
---
---